Dr. Josef Penninger discusses the discovery of ACE2 and how his team studies COVID19 using organoids
In Vitro Modeling for Developing COVID-19 Therapeutics
Dr. Josef Penninger, Director, Life Sciences Institute, University of British Columbia
Group Leader, Institute of Molecular Biotechnology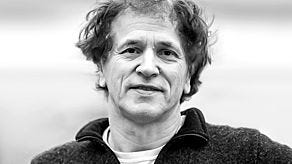 Dr. Josef Penninger is a trained medical doctor and Professor of Medical Genetics at the University of Vienna and University of British Columbia, where he also serves as Director of the Life Sciences Institute. His lab studies the cellular and molecular mechanisms behind a range of diseases, including cancer and infectious diseases. Dr. Penninger's findings on angiotensin-converting enzyme 2 (ACE2) and its role in Severe Acute Respiratory Syndrome Coronavirus (SARS-CoV) infections have brought the scientific community a step closer to finding an intervention for the COVID-19 pandemic. His efforts in this field led to the rapid identification of a potential drug molecule that entered Phase II clinical trials for the treatment of COVID-19 infection in April 2020.


*This Q&A was adapted from a video interview with Dr. Penninger.
Connecting the Dots in Respiratory Viral Infections
How did you get involved in COVID-19 research?
I heard about this from the media in mid-January (of 2020). A week later, the viral genome sequence was released, and it was very similar to the coronavirus that caused the first SARS outbreak [in 2002]. Many, including myself, realized that the new virus is a very close sibling of the first SARS coronavirus. It was very clear to me that the receptor for this new virus would be ACE2, which I discovered as a young investigator in the 1990s, was a receptor for the first SARS coronavirus. For about a decade after the first SARS breakout, I was known as Mr. ACE2! Of course we could not initially imagine that this would become a full-fledged pandemic, thinking it was just another local outbreak. But then COVID-19 started to spread to other countries and then I realized how important our past findings could be in this context.
Publication Highlight
Monteil V et al. (2020) Inhibition of SARS-CoV-2 infections in engineered human tissues using clinical-grade soluble human ACE2. Cell. Apr 13 Epub ahead of print, DOI: 10.1016/j.cell.2020.04.004.
Tell us about your collaborations that led to your COVID-19 findings.
I have been working with the biotech industry for many years to develop ACE2-related therapeutics for lung failure. Additionally, my collaborators in Sweden isolated the virus from the first Swedish patient and I knew that we could use organoids to study infectious disease. Therefore, we built a team with Núria Montserrat, who is an organoid expert in Barcelona; Ali Mirazimi, who studies infectious diseases in Stockholm; and Ryan Conder from STEMCELL Technologies, who helped us to create intestinal organoids. Together with these teams we published our recent Cell paper1 in about five weeks, an unusually short amount of time.
Our role in the Cell paper was largely supportive for the techniques. STEMCELL Technologies has been an expert with organoid technology, developing protocols and media to support it. So we immediately started working with Dr.Penninger's group on this project. Having developed these technologies, we were able to really quickly transfer the knowledge so they could perform these experiments in a Class 3 facility in Sweden.
Dr. Ryan Conder, Associate Director, STEMCELL Technologies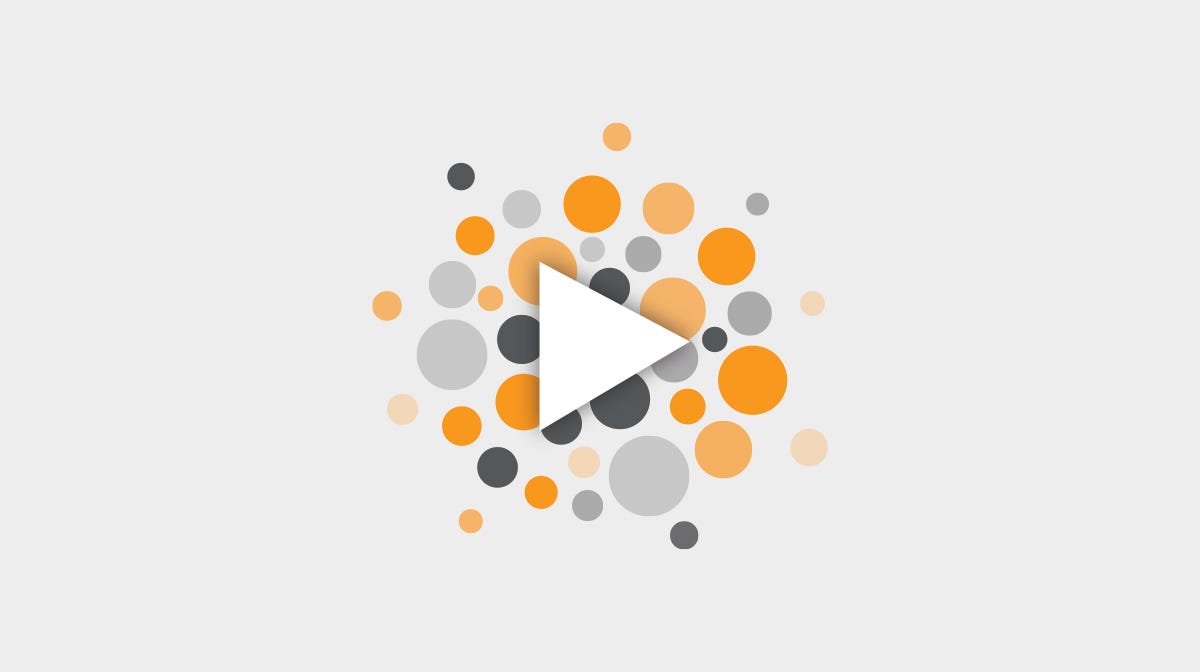 Cell Biology Applications for Understanding and Treating COVID-19 Infections
How would you summarize the main findings of your recent paper?
There were two key findings in our paper:
One involved the use of Vero E6 cells as a model to culture and study COVID-19. We found that when treated with recombinant soluble ACE2 at early stages of infection, viral load was reduced by 1000 - 5000 times in this disease model. This is the same molecule that is now going to be tested in COVID-19 patients in Phase II clinical trial.
The second major finding came from the use of kidney and blood vessel organoids, which we developed a year ago2, to model COVID-19 infection and test our recombinant molecule. This is particularly important because we know that this virus does not only infect lungs, but also attacks the intestines, kidneys, heart, and other organs, and it needs to be studied in the context of all organs. Moreover, the endothelial organoids allow us to study how the virus spreads into the blood circulation and becomes systemic. We think that, based on its size of 100 nm, this virus affects the cilia protrusions of endothelial cells and this can facilitate its spread to other organs.
I do believe organoids will be absolutely critical for this. The research using them in COVID-19 will just explode.
Dr. Josef Penninger
Tell us about your experience with organoids.
I have been familiar with organoids for many years, and I was involved in the development of the first human brain organoid. More recently, Reiner Wimmar from my group developed blood vessel organoids from a single stem cell, which was published in Nature last year.2 For the recent COVID-19 findings, we had help with the kidney organoids from Núria Montserrat. And of course the intestine was an area of interest because we know from our previous findings that ACE2 affects intestinal uptake of amino acids by regulating the renin-angiotensin pathway.3 This is where Ryan Conder's expertise with intestinal organoids became really helpful as he worked with us and helped generate these organoids for our study. We continue to work on these organoids and very interesting data will be published soon.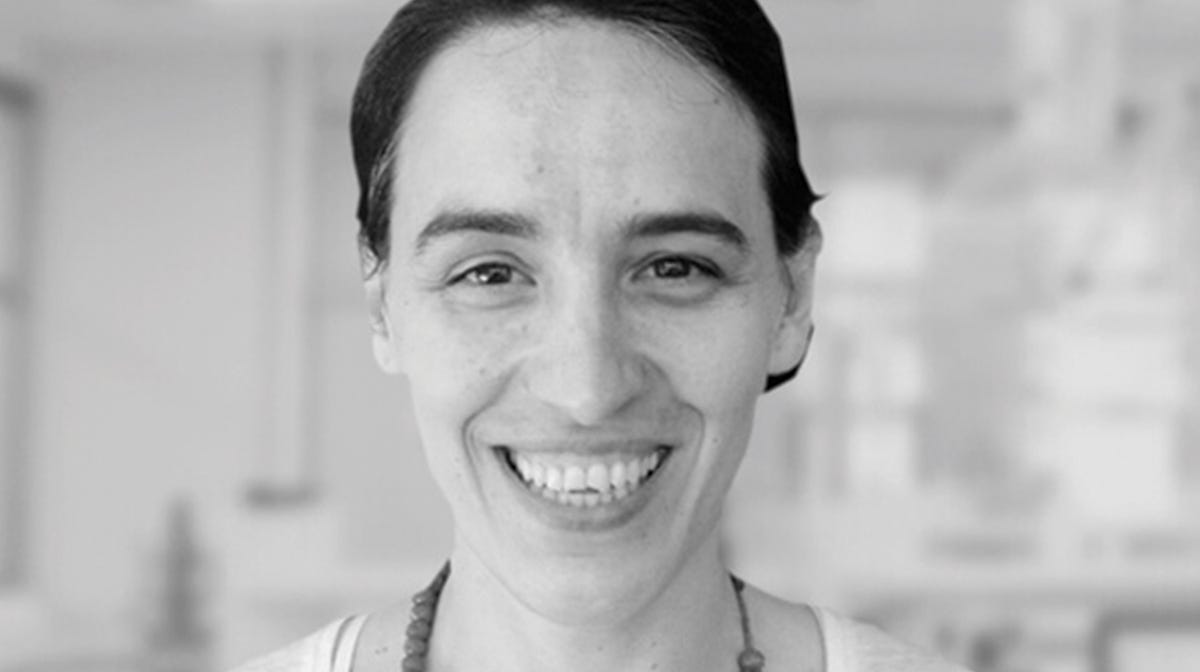 What is the role of STEMCELL in multidisciplinary collaborations such as this COVID-19 project?
STEMCELL's role is very important because we need to study the pathology of the virus and this is not fully possible in patients. Organoids are the closest we can get to real human tissues. We can study how the virus interacts with more complex organoids that mimic organs. Studying the disease in mouse models can also be helpful, but testing therapeutics in mice usually cannot replace testing in human tissue. We can even potentially test vaccines in these systems, which still requires more work, to see if we can prevent infections in different organs.
It has been great to work with STEMCELL Technologies. I hope that we can work together even more closely to strengthen our academic-industrial collaboration. I think there is a lot that could come from academia, and I think you guys are amazing people who make intestinal and many other organoids, and STEMCELL can contribute a lot.
Featured Tools and Resources for Organoid Research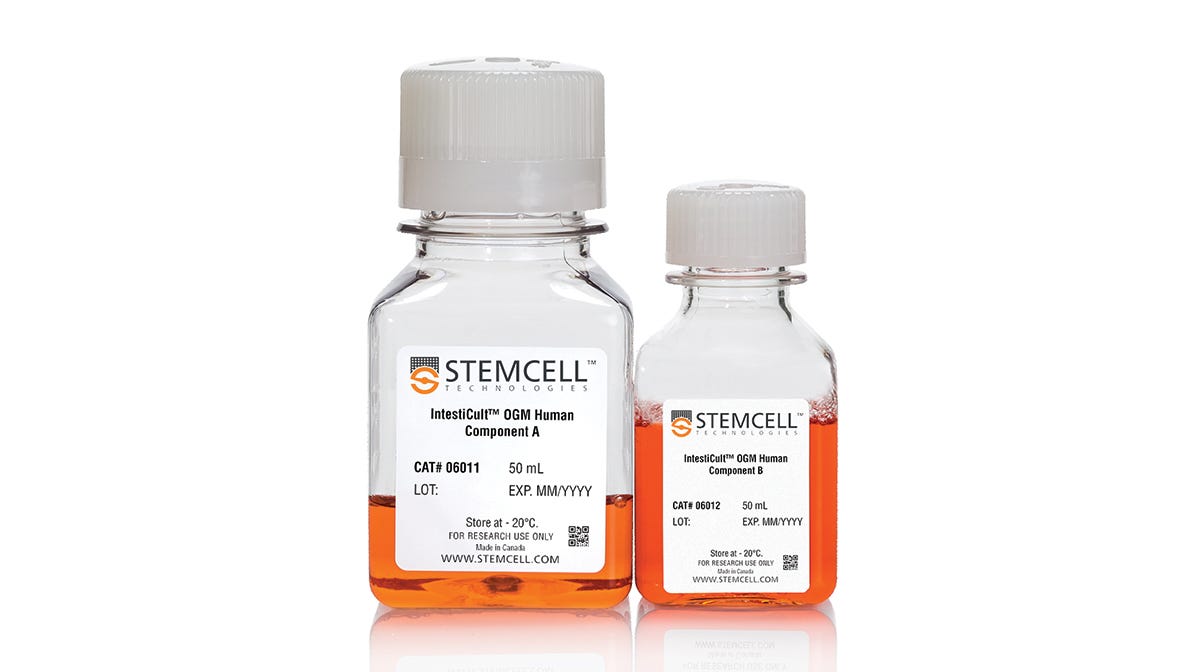 IntestiCult™ Organoid Growth Medium (Human)
Generate human intestinal organoids in as fast as one week.
Growing Organoids From Stem Cells
Use this wallchart for a summary of factors and culture conditions for growing organoids from various tissues.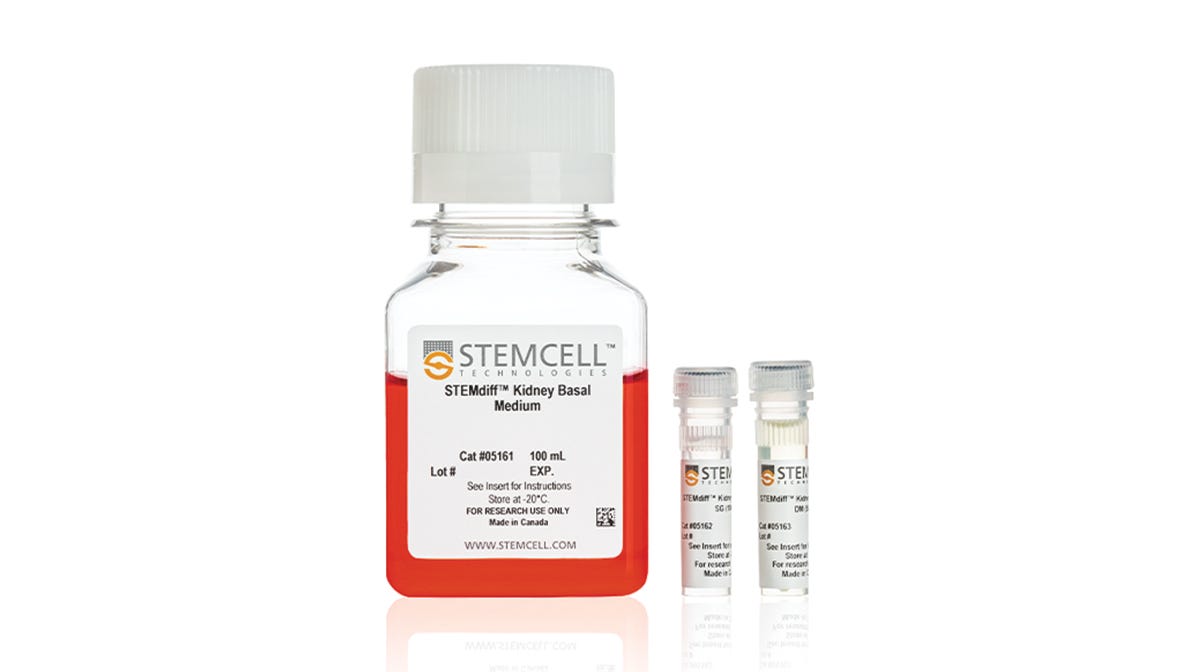 STEMdiff™ Kidney Organoid Kit
Culture kidney organoids from hPSCs, serum-free.
References
Monteil V, Kwon H, Prado P, Hagelkrüys A, Wimmer RA et al. (2020) Inhibition of SARS-CoV-2 Infections in Engineered Human Tissues Using Clinical-Grade Soluble Human ACE2. Cell.
Wimmer RA, Leopoldi A, Aichinger M, Wick N, Hantusch B et al. (2019) Human blood vessel organoids as a model of diabetic vasculopathy. Nature 565(7740): 505–510.
Kuba K, Imai Y, Rao S, Gao H, Guo F et al. (2005) A crucial role of angiotensin converting enzyme 2 (ACE2) in SARS coronavirus–induced lung injury. Nat Med 11(8): 875–879.
Request Pricing
Thank you for your interest in this product. Please provide us with your contact information and your local representative will contact you with a customized quote. Where appropriate, they can also assist you with a(n):
Estimated delivery time for your area
Product sample or exclusive offer
In-lab demonstration
By submitting this form, you are providing your consent to STEMCELL Technologies Canada Inc. and its subsidiaries and affiliates ("STEMCELL") to collect and use your information, and send you newsletters and emails in accordance with our
privacy policy
. Please
contact us
with any questions that you may have. You can unsubscribe or change your
email preferences
at any time.