Custom Solutions for Human Primary Cells
It All Starts with the Right Cells
As researchers continue to strive toward the development of personalized medicines, using ethically sourced human biological material is becoming increasingly important for conducting specialized cell-based assays. To ensure drug discovery and development stages are substantially validated, it is paramount to use cells of the highest quality. Thus, a key factor for efficient, high-quality, cell-based research is working with a reliable supplier who not only values sample integrity, security, and compliance, but who can also support your specific requirements.
STEMCELL Technologies accommodates your unique needs with personalized service and customizable products, including products that meet specific isolation and anticoagulant requirements, custom cell isolation kits, cell culture media, and more. Additionally, with the option to reserve multiple lots to prescreen cells for your applications, we help you get the cells you need.
Why Use Human Primary Cells from STEMCELL Technologies?
Choose cells that are more physiologically representative of cells in vivo.
Access donor samples collected using regulatory authority-approved consent forms and protocols.
Request custom products for non-standard cell types or collections with specific requirements.
Reserve large numbers of cryopreserved cells and start experiments on your schedule with cells you've already tested.
Reduce time spent collecting and culturing cancer-sourced primary cells.
Custom Primary Cell Products*
In addition to the hundreds of ready-made, "off-the-shelf" primary cell products from peripheral blood, cord blood, and bone marrow that we provide, STEMCELL can also support your complex research projects with products customized to your specific requirements. Examples include:
Rare or difficult-to-isolate hematopoietic cell types (normal and diseased, including cells from patients with autoimmune diseases, diabetes, asthma, cancer, etc.)
Cells that meet specific donor recruitment criteria
Collections obtained using alternative anticoagulants
Products in alternative size formats, e.g. bags, vial sizes, requested cell counts, etc.
Donor-matched collections for fresh and/or cryopreserved cells, e.g. whole blood, leukopaks, isolated cells, plasma, serum, etc. from the same donor
Cell Characterization Services
Save time by letting STEMCELL characterize your cells. Reserve multiple lots before selecting your lot of interest based on the test results. Characterization services include:
Viral screening: e.g. lymphocytic choriomeningitis virus (LCMV) status, cytomegalovirus (CMV) status, Epstein-Barr virus (EBV) status, and others
High-resolution human leukocyte antigen (HLA) typing: Class I and II
Blood type: ABO/Rh factor
Genotyping: CD16, CD32, and Killer Ig-Like Receptors (KIR)
Phenotyping
FACS analysis
Donor Specifications
Leverage our robust donor pool for your specific donor specifications, including:
Donor demographics: age, sex, weight, height, and ethnicity
Donor attributes: BMI, smoking status, and vaccination status
Donor request: recall, repeat, and diseased patient donors
Donors are screened for HIV-1, HIV-2, hepatitis B, and hepatitis C. The donor demographics and testing information for a specific product can be found on the Product Information Sheet (PIS) and the Certificate of Analysis (CoA), respectively. Additional viral screening, including LCMV status, CMV status, EBV status, human T cell lymphotropic virus (HTLV) status, syphilis status, West Nile virus status, COVID-19 history and vaccination status, and others, may be requested. Learn more about our Donor Viral Screening Policy.
If donors with specific characteristics are unavailable, we are able to request donors of choice. Please note that there may be an additional fee and lead time associated with the request.
Need more information? Contact us for support with custom requests, shipping and delivery requirements, and more.

Why Use Human Primary Cells from STEMCELL?
Learn how STEMCELL can help you reduce experimental uncertainty and support your research by providing a dependable source of high-quality human primary cell products that consistently meet your requirements.
Learn More >

Frequently Asked Questions on Primary Cells
Find answers to frequently asked questions on our primary cell products.
Learn More >
Custom Workflow Solutions
In addition to providing custom primary cell products, STEMCELL can work with you to deliver tailor-made products for your unique cell separation and cell culture needs.

Custom Cell Separation Kits
Are you trying to isolate a very specific or rare cell type but unable to find a readily available kit? We can help you create your own custom cell separation kit or you can combine your own antibody with our EasySep™ indirect kits.
Learn More >

Custom Cell Culture Media
We can help you create custom cell culture media specifically designed for your intended application, including custom packaging or formulations to meeting higher regulatory requirements.
Learn More >

Regulatory Support
Learn how STEMCELL can support your regulatory and compliance needs when using human primary cells in your research.
Learn More >

Request an Offer for Human Primary Cells
Fill out this form to request information about introductory offers to try STEMCELL's human primary cell products.
Request Offer >
For more information on our services related to STEMCELL primary cell products, please see our terms and conditions. You can also contact our primary cells team or your sales representative to discuss your specific application and regulatory or product requirements.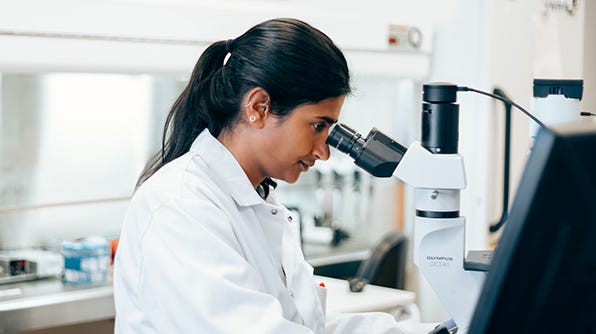 Primary Cell-Based Contract Assay Services
STEMCELL's Contract Assay Services (CAS) is a contract research organization (CRO) specializing in primary cell-based assays for drug toxicity and efficacy testing studies. Choose from a portfolio of standardized assays or discuss your customized needs with our in-house experts.
Learn More >
Resources to Streamline Your Cell-Based Assays
Discover technical resources to help you work with human primary cells in your research.
*Certain products are only available in select territories. Please contact your sales representative or the Product & Scientific Support team at techsupport@stemcell.com for further information.