Dr. Swati Dhar describes her work on understanding and developing therapies against Diffuse Intrinsic Pontine Glioma
Using Mouse Models to Solve a Rare but Devastating Pediatric Brain Tumor
Swati Dhar, Ph.D., Research Scientist, Ann & Robert H. Lurie Children's Hospital of Chicago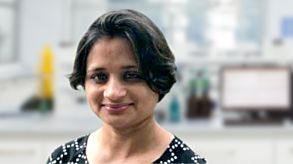 Dr. Swati Dhar is a research scientist at the Ann & Robert H. Lurie Children's Hospital of Chicago. In 2018, she shared with us a discovery that inspired her own scientific research, and she received a travel award from STEMCELL Technologies to attend a conference of her choice. She chose to attend the Tumor Models 2018 conference.
I am amazed to learn the mind-blowing history of DNA sequencing, from Sanger's Nobel recognition to Craig Venter's sequencing of the human genome. Most of these technologies paved the way for what is now referred to as 'next-generation sequencing'. These portals have become a staple for evaluating large-scale endemic infectious diseases and as companion diagnostics in cancer screening. In my own work, I am preparing to integrate ATAC sequencing and single cell RNA sequencing to investigate the epigenetic landscape of pediatric brain tumors. I can't be thankful enough for the pioneering efforts of these scientists that continue to enable novel discoveries in genetic and epigenetic research.
Dr. Swati Dhar, Ann & Robert H. Lurie Children's Hospital of Chicago, United States
Science moves forward when you share it with the world, so we asked Dr. Dhar to share her research, and her experience at the Tumor Models 2018 conference.


The Research: Developing Therapies Against a Devastating Childhood Brain Tumor
Can you tell us about your research?
I'm working as a Research Associate at the Department of Pediatrics, Feinberg School of Medicine, Northwestern University, Chicago, IL. I joined this position in 2017, after completing my postdoctoral training at the University of Mississippi Medical Center, Jackson, MS. The lab (led by Oren J Becher, MD) is working on understanding and developing therapies against Diffuse Intrinsic Pontine Glioma (DIPG), a rare but devastating childhood brain tumor, affecting approximately 200 kids in the US, ranging from 5 - 9 years of age. There is currently no therapy. The kids succumb to the disease within 6 months to a year after diagnosis. At best, current treatments prolong their life by a few months. Surgery is not a possible solution due to the delicate location of the tumor in the brainstem, the epicenter of our involuntary functions such as respiration, swallowing food, facial movements, etc. I'm developing a project to explore the epigenetic and immune landscape of the disease and possibly address development of druggable targets in this deadly disease.


The Conference: Tumor Models 2018, Boston, United States
Why did you choose to attend the Tumor Models 2018 conference
For most of my training and career, I have worked in the discovery and translational biology area, developing proof-of-concept studies in mouse models of cancer. Tumor Models 2018 presented itself as a great opportunity to interact with the scientific community to get a flavor of front-end research both in academia and industry, transcending therapeutic areas.


Can you tell us about your favorite presentations at the conference?
Almost all of the talks presented new perspectives to me, making it quite difficult to choose between the translational and the biological streams at the conference. However, I would like to highlight 4 presentations that appealed to me.
Tseten Jamling (VP of Research and Development, Hera BioLabs Inc.—an upcoming CRO based out of Kansas) presented the company's product line of the OncoRat model. Such models are of prime importance in drug pharmacokinetic studies, especially for researchers working with Patient Derived Xenografts (PDX). They have completed an initial round of proof-of-concept studies with NIH grant support, and are expanding their disease models.
Daniel Powell (Associate Professor, University of Pennsylvania, Perelman School of Medicine) gave an insightful overview of the work his lab does: generating and testing the next-generation chimeric antigen receptor (CAR) T cell therapies. One key issue in the field is the persistence of CARs years after infusion in patients, and dealing with inflammatory conditions that can be off-target effects of the treatment. His lab and others in the field are now involved in developing multivalent CARs that can be controlled in an on/off mode, opening newer avenues for the potential of CAR T cell immunotherapy.
Michael Brehm (Associate Professor, University of Massachusetts Medical School) gave a comprehensive overview of the importance of understanding which in vivo mouse model would best serve a researcher's needs in a particular therapeutic area. Choosing between immunodeficient mice, immunocompetent mice, genetically engineered mice, PDX models etc. is an important consideration, as the research outcome is heavily dependent on utilizing the precise preclinical model to ask the right questions and arrive at objective conclusions. The truth about any preclinical work is that the amount of time, effort, and budget they involve mandates careful selection of mouse models to speed up drug development.
Last but not the least, Giovanni Offeddu (Postdoctoral fellow in Roger Kamm's lab at MIT) showed the ongoing efforts from the work of his mentor's lab, developing in vitro microfluidics vascular models based on HUVECs and utilizing these models to interrogate drug transport and activity studies, for example by mimicking the blood-brain barrier.


How has attending this conference inspired you or affected your current research?
A key motivation for me in attending this conference was to discuss the rare pediatric brain tumor research that my current lab is working on. There is very little attention from industry on brain tumors because it is hard to treat, and there is no viable revenue-generating drug yet. Most of the work is still in academia. I wanted to raise awareness on the rare histone mutation that is characteristic of this disease, and that research should be funded by federal agencies to amplify efforts in pediatric and adult brain tumors alike.

I was very happy to discuss my poster with a lot of delegates, and got some insightful queries from industry as well. I was able to use this networking opportunity to discuss my research with several companies, including efficient brainstem tumor imaging and possible drug targeting studies in our mouse models. I'm currently incorporating these insights into my research.



Advice for Young Scientists: Know Yourself and Get a Mentor
What advice do you have for the next generation of scientists?
To my younger self and to the upcoming scientists of tomorrow, I have 2 messages.
Have a clear understanding of yourself and the science you expect/want to do, especially given the current climate of funding. As I'm exploring career paths, I feel it is of paramount importance that you know your strengths and weaknesses. Be proactive, seek opportunities, volunteer and learn, and always see what you can contribute to a team, no matter how small or big it is.
Have mentors. Every successful person that I have read about has had a mentor. One need not rely on their immediate vicinity. Seek out your path, and when you think of your career, no person is too small or too big to become a mentor. You just have to be genuinely interested and ask. And don't forget to return the favor by doing some mentoring yourself. It is very gratifying, and is a great learning experience.
Most importantly don't forget to enjoy the science that you do.




Related Resources
Webinar
Humanized Mouse Models for Hematopoietic Stem Cell Research: Principles and Pitfalls
Request Pricing
Thank you for your interest in this product. Please provide us with your contact information and your local representative will contact you with a customized quote. Where appropriate, they can also assist you with a(n):
Estimated delivery time for your area
Product sample or exclusive offer
In-lab demonstration
By submitting this form, you are providing your consent to STEMCELL Technologies Canada Inc. and its subsidiaries and affiliates ("STEMCELL") to collect and use your information, and send you newsletters and emails in accordance with our
privacy policy
. Please
contact us
with any questions that you may have. You can unsubscribe or change your
email preferences
at any time.